Welcome to TheGardenArtForum Members Gallery!

---
All of the work displayed here was created by registered members of TGAF. A thoroughly eclectic and wonderfully eccentric group of both amateur & professional artisans & craftspeople. This gallery was created to share their joyful endeavors with the world. So take a look. Enjoy. Be inspired to unleash your own personal Muse. And if you are looking for quality art & craft info...you've come to the right place. Sharing ideas, techniques and "secret recipes" is our favorite pastime here. So if you decide to take the artistic plunge...drop into our Discussion Forums to learn more. You won't find a more caring and sharing group of folks anywhere on the web.

---
Mosaics & More from TGAF Member...Jynja!
Hand cut mosaics on a reinforced concrete and metal lath base.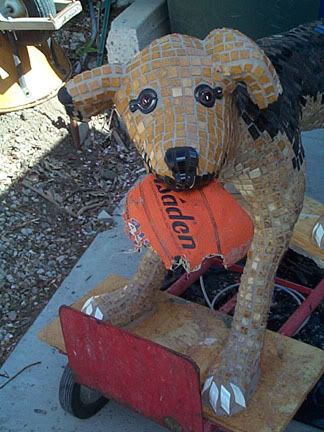 Meet Butch...

...memorialized in his most famous pose/activity.
To see even more of Jynjas' fun stuff, check out her numerous pix & tutorials in the albums below...
smg.photobucket.com/albums/v230/jynja/
Thank you Jynja!
---
Not Only Can Pigs Fly,But they Can do it With Style! By TGAF Member Klinger (aka; Cindy)
Mosaics on a concrete and metal lath base.
---
TGAF Member John Cranbrooks "Extreme" Birdhouses. You wont find these at your local hardware store!

You have to begin with some sense of scale to really appreciate what John has done with the "birdhouse" concept.



Not only are they...uh, large as birdhouses go, but they are remarkably detailed and finished.



Made from recycled, 100+ year-old barnwood, each one is a small wonder in it's own right.

And while he creates a wide range of styles, they mostly come in Large, X-Large, XX-Large, etc.



And...John has a brand new website where he is even offering plans so you can build your own. Just make sure you can get it out the door before you finish it!
Take a look at...
www.extremebirdhouse.com/index.html
---